Cardano ADA Staking
We're excited about the potential of Cardano to enable a fairer financial future. By staking ADA with us you can be part of the journey.
Pool Tickers: ADV and ADV2
The ADAvault stake pools are providing our delegators with reliable rewards of more than 5% on their stake for the minimum fixed pool fee of 340₳ per Epoch, and an introductory variable fee of 0%*
In staking with ADAvault you will get a continuous return on your ADA investment. We are an independent Stake Pool Operator, and only operate two pools. By staking with us you are supporting the decentralisation of Cardano ecosystem.
We operate highly secure and reliable stake pools, and commit to permanently fair fees.
* We are waiving the variable fee for all new and existing delegators from Epoch 230 until March 31st 2021 when it will revert to 0.99%.
Why Pledge Matters
ADAvault has a 1M₳ pledge assigned to the ADV and ADV2 pools. Why does this matter?
The pool pledge is committed as part of the signed transaction when the pool is created. If the pledge commitment is not maintained for a given Epoch then the pool owners and delegates do not receive rewards.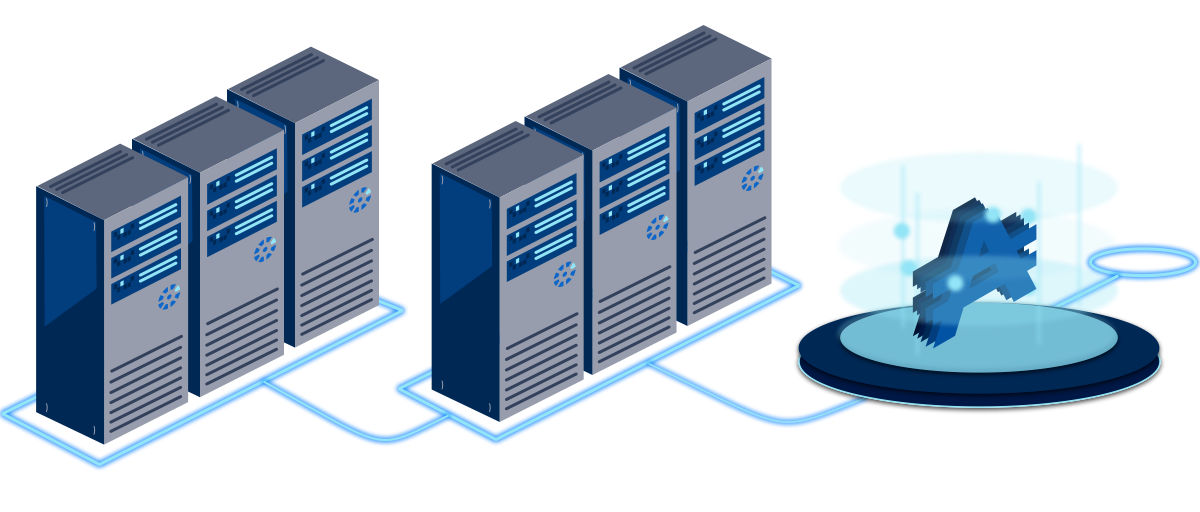 Pools with a significant pledge are making a long term commitment to the Cardano ecosystem and are taking a real and measurable risk. They cannot quickly exit the ecosystem without impact, and this helps maintain the ADA price, acting against extreme price fluctuations.
As a delegator you can have confidence that pools with a large pledge are incentivised to keep the pool operating securely and reliably. It stops pool owners from running large numbers of pools and therefore acts against centralisation of the network which helps maintain security and resilience.
How to Stake with ADAvault
When you choose to stake your ADA with us they remain secure in your wallet. This means we do not have access to your private keys or passwords, and will never request this information. Therefore at any time of your choosing you can cease staking (or delegating) to any stake pool, and they return to your control.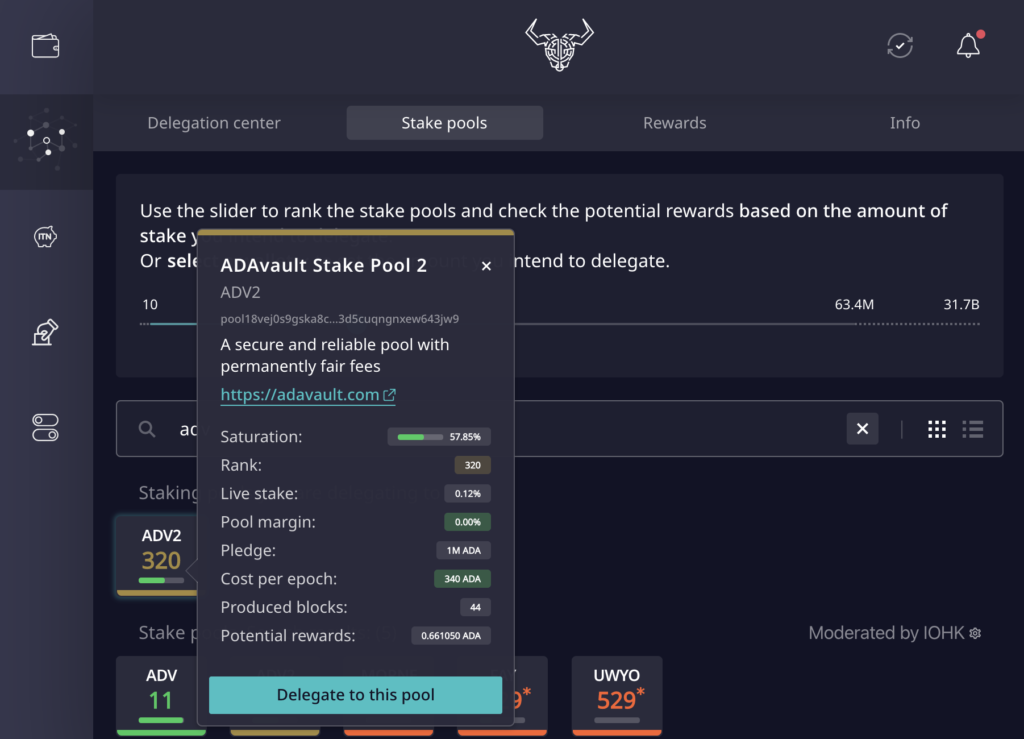 Staking is supported by Daedalus and Yoroi. In both wallets you can search for the pool ID in the footer or use the ticker symbol. Simply select the delegation tab, and search for the Pool Ticker ADV or ADV2.
ADV and ADV2 are not saturated, at this time we recommend new delegators should delegate to ADV2.
When the amount staked against a pool reaches saturation, the percentage rewards per delegator decline. The saturation level is set at ~60M₳ from Epoch 234 on December 6th, and reduces to ~30M₳ in March 2021.
We plan to introduce 2 new pools in March (ADV3/4) to enable delegators to continue to enjoy the same class leading returns.
Performance

ADV has 54 blocks allocated for Epoch 250 (50 blocks expected, 108% luck).

ADV2 has 21 blocks in 250 (19 expected, 111% luck).

The performance for ADV2 was higher risk until the stake grew to approx 10M₳, however this has worked in the pools favour with much higher returns as seen with Epoch 243, 244, 246, 247 and 248. We expect returns to equalise across the pools through 2021.

ADAvault Ops Team
ADAvault stake pools have minted all blocks allocated since they started operation, producing a stable and predictable return for our delegators. We have an average stake pool return of ~6%, which is near the top of the theoretical annual return within the Cardano ecosystem.