We have extended the 0% variable fee promotion for another 6 months until the end of March 2022. The ADA price has increased sufficiently to cover pool operating costs with the fixed fees.
We continue to invest in developing new capabilities, with a number of infrastructure improvements planned in the coming months to further increase pool resilience by locating across multiple sites with separate fibre connections.
In addition we are starting work on non-custodial vaulting options using Smart contracts. This will enable inheritance and vesting options, as well as locking away funds for a period of time. Stay tuned.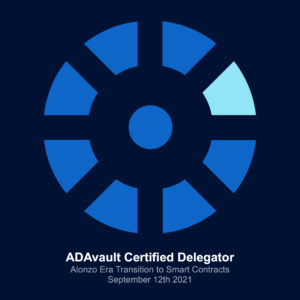 For those of you who have visited poolperks.io and claimed your NFTs, well done. For those that haven't do it soon as the Alonzo Certified Delegator NFTs will only be available until the 12th of October. These will have the ability to unlock ADAvault features and benefits in coming years.