The new quarterly State of Cardano report is out from Messari covering the period from March to June 2023. Some positive trends in the metrics again with activity on chain increasing through the quarter.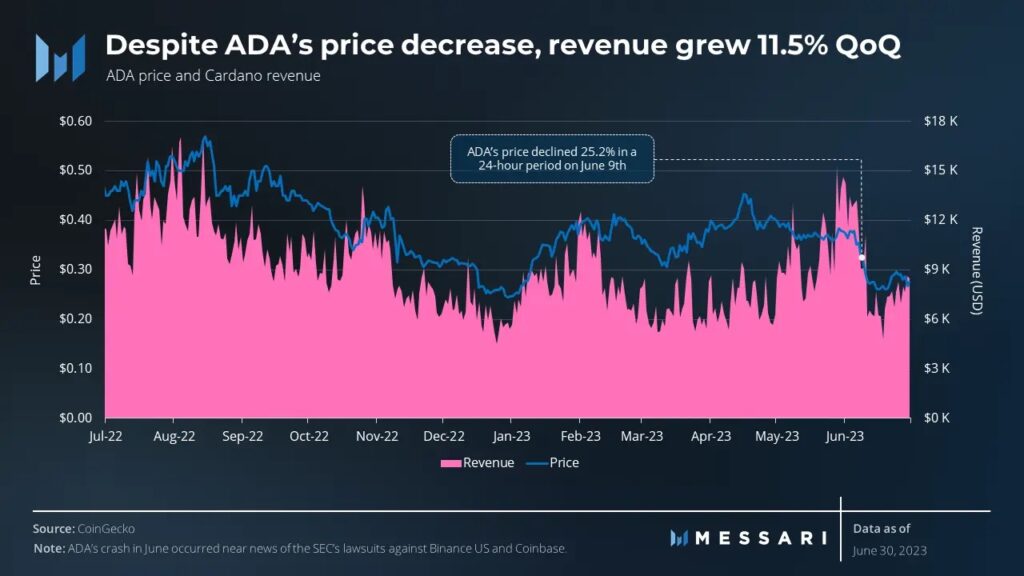 Highlights they note include:
Average daily dapp transactions were up 49% QoQ. Minswap had the largest absolute growth, but several new dapps contributed to the overall increase.
TVL (USD) was up 9.7% QoQ and 198.6% YTD. Through 2023, Cardano moved up from 34th to 21st in TVL ranking across all chains.
Hydra Head development continued with proposed topologies, interest from ecosystem teams, and a demo shared.
Milkomeda C1, Midnight, Wanchain, and IOG's sidechains team continue to build towards increased interoperability and new use cases in the greater Cardano ecosystem.
It's a fair and balanced report and is recommended reading. Their closing summary captures things well:
New infrastructure such as stablecoins, programming languages, and wallets are helping Cardano developers create more sophisticated applications with improved UXs. During Q2, Cardano's ecosystem grew 49% QoQ in dapp transactions and 10% QoQ in TVL (USD). More importantly, the ecosystem diversified with newer protocols contributing significantly to various activity metrics.

Multichain solutions, such as Hydra Head and the Milkomeda C1 sidechain, continued to mature and are aiming to support future activity increases, whether that be from DeFi or from gaming. Development on various other sidechains and L2s signifies Cardano's multichain vision for the future, even as usage on the base layer continues to experience growth.

https://messari.io/report/state-of-cardano-q2-2023