This blog entry is mainly a placeholder to store some links and idle speculation.
As a topic it's interesting for the same reason all detective stories are interesting, a human desire to know 'whodunnit'.
There is one fact(?) which is that Hal Finney received the first Bitcoin transaction from Satoshi to his wallet (shown above), and we can see that from an archived article written by journalist Andy Greenberg who met Hal shortly before he died who was shown a screenshot of Hal's (only?) Bitcoin wallet. If you validate the addresses on the blockchain.com explorer they check out.
Beyond this it rapidly gets very murky. In the cast of characters around at Bitcoin's early inception there are at least two or three others who are interesting (possibly more if we include Craig). The relationship between Nick Szabo and Hal stands out, they both commented on each others blogs frequently, across a range of economic, political and game theory topics.
Adam Back (the originator of hash cash) comments on the blog post that supposedly 'outs' Nick.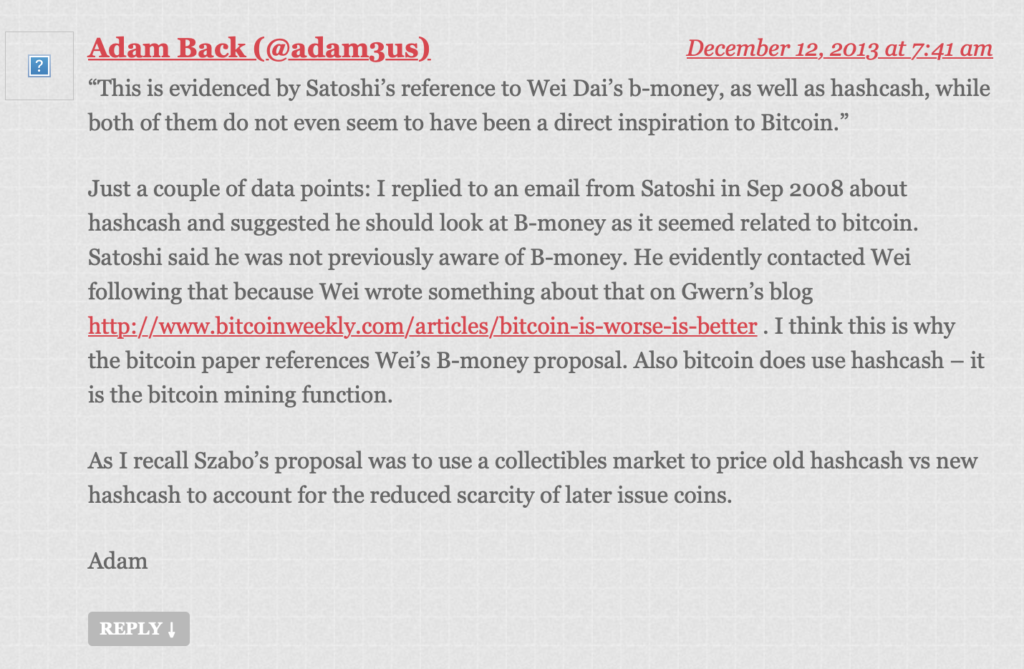 Adam's comments above, if taken at face value would seem to rule out him and Wei from consideration, and implies that Nick's proposal was not the way Bitcoin was designed (there is the fact of Nick's blog posts being edited post Bitcoin, see URL versus date stamps).
Nick explores a lot of concepts that relate very closely to Bitcoin, for example Smart Contracts, Secure Time, Tamper Evident Numbers, and some which are more tangential.
Dave Kleiman was certainly working in the space. However it's much harder to find hard evidence that Dave was working on the specifics that fed into this solution, beyond general comments on crypto mailing lists.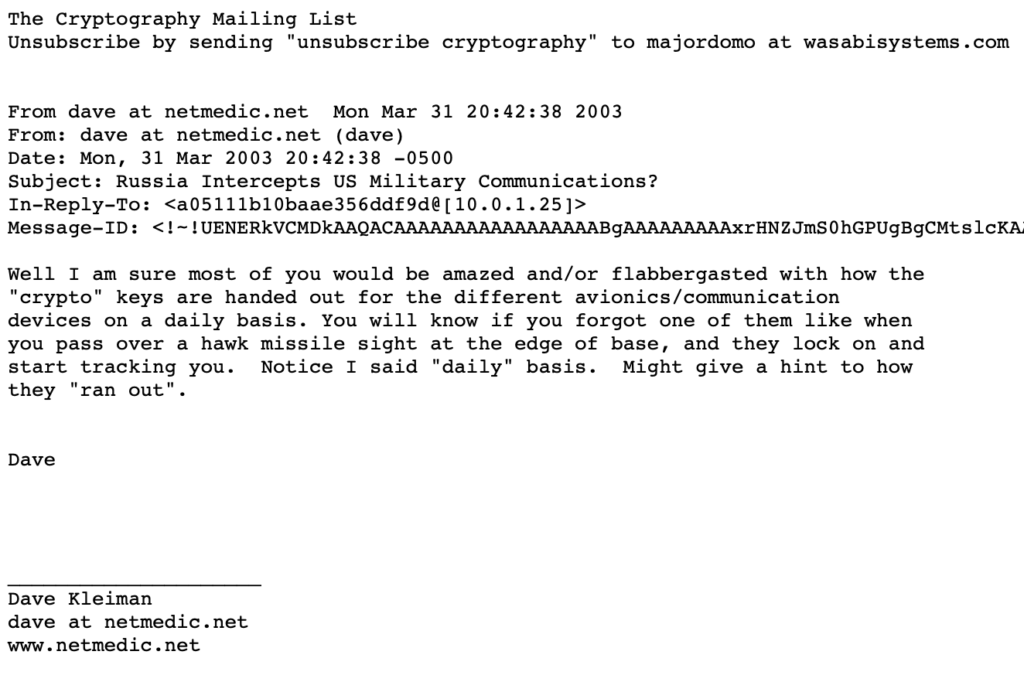 But lets come back later to Gwern Branwen, who seems to be linked to them all and who in this post nicely encapsulates why the cockroach survived.
More to come…
Interesting links
TechCrunch article: Who is the real….
Blog post: Satoshi is probably….
Unenumerated Blog Post: Bit Gold
OvercomingBias: Hal Finney Author Archives
https://web.archive.org/web/20150227213647/http://www.washingtonpost.com/blogs/the-switch/wp/2014/01/03/hal-finney-received-the-first-bitcoin-transaction-heres-how-he-describes-it/
https://web.archive.org/web/20150227213647/http://www.washingtonpost.com/blogs/the-switch/wp/2014/01/03/hal-finney-received-the-first-bitcoin-transaction-heres-how-he-describes-it/
https://web.archive.org/web/20140406033909/https://bitcointalk.org/index.php?topic=22.0
https://craigwright.net/blog/bitcoin-blockchain-tech/satoshi-never-posted-on-bitcointalk/
Gwern Bran­wen's write up is very interesting and leads into Wei Dei's AMA…
https://www.gwern.net/docs/bitcoin/2008-nakamoto
https://www.lesswrong.com/posts/YdfpDyRpNyypivgdu/aalwa-ask-any-lesswronger-anything?commentId=kro6CDWaeQojqZnvb#kro6CDWaeQojqZnvb